Description
DESCRIPTION
AXIS P9106-V Network Camera
Full coverage from any corner

Out-of-box optimized field of view in 3 MP resolution – no blind spots
Elegant and compact design in brushed steel and white finishes
Vandal-resistant (IK10) and IP66-rated dust protection
PoE over 2-wire for elevator installations
Support for Portcast devices with AXIS T61 Series
*NB Order on Demand item, please check stock with your local store.
AXIS P91 Network Cameras are indoor, corner-mounted cameras specifically designed to provide the best field of view and ensure no area is left uncovered. These compact and discreet cameras deliver up to 3 MP resolution and are available in an elegant, brushed steel model (AXIS P9106-V Brushed Steel) and a ligature-resistant (also known as anti-ligature), matte white model (AXIS P9106-V White). 
Installation is quick and easy with out-of-the-box optimized corner-to-corner coverage to save time and costs. Even in scenes with strong backlight, the combination of WDR and Zipstream means all the important details can be captured while lowering bandwidth and storage requirements by 50% or more.
Compact, safe and stylish
AXIS P9106-V Network Cameras can cover up to 130 degrees horizontally and 95 degrees vertically, without blind spots. These cameras are resistant to shock and vibration and are delivered factory-focused so there's no manual focusing or lens adjustment required.
The elegant and compact design of AXIS P9106-V Brushed Steel makes it ideal for video surveillance in premises with high-end interiors. The brushed steel model benefits from no visible screws, helping it to blend in with stylish interior design, especially seen in most elevators. Furthermore, the casing can be easily re-painted in any color to blend in with specific surroundings.
The ligature-resistant (anti-ligature) design of the AXIS P9106-V White helps prevent self-harm. It's ideal for video surveillance of high security environments like police custody suites, correctional facilities, psychiatric wards, as well as hospital recovery rooms, waiting rooms, and interview rooms.
Thoughtfully simple and cost-effective installation

In many corner-mounting scenarios, installers are often challenged with wall or ceiling surfaces that are not mounting-friendly, such as mirrors, acrylic glass, and windows. AXIS P9106-V has been specifically designed to allow corner-mounting using only 2 of the 3 surfaces (wall + wall or wall + ceiling). The cameras are also easy to install alone, thanks to innovative screw gaskets that hold the screws in place during mounting.
In environments with unique infrastructure requirements, AXIS P9106-V has been designed and tested to be compatible with multiple media converter options such as PoE over Coax (see AXIS T864 PoE+ over Coax Series), or PoE over 2-wire (see 2N 2Wire). This is especially helpful when installing the camera in elevators, where PoE over 2-wire can be used to connect to the existing travelling cables.

Without the need for heavy investment in re-cabling, installation is fast and flexible, keeping costs low and avoiding downtime.
Easy to operate and maintain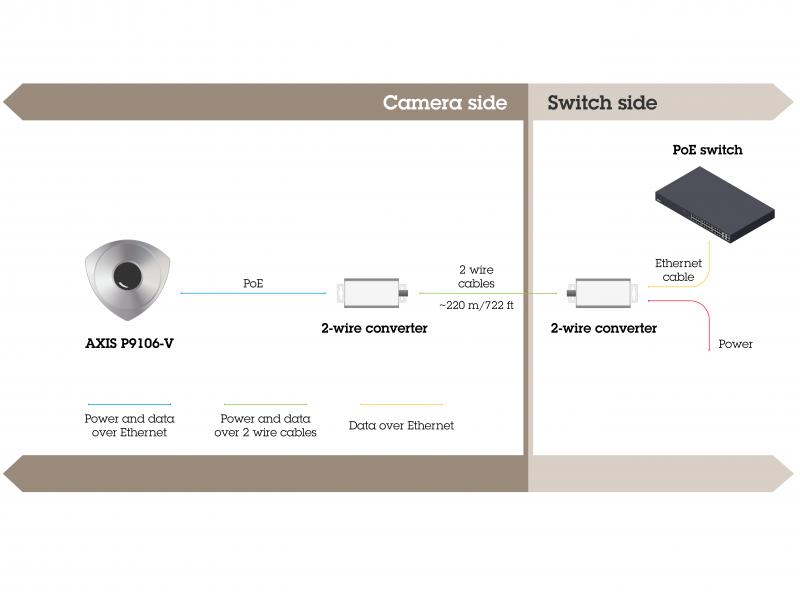 AXIS P9106-V can be installed in easy-to-reach areas, and you can be confident that it's safe and secure thanks to its vandal-resistant IK10-rated casing. For added security and peace of mind, the camera's IP66-rated casing offers protection from dust and water.
The entire camera and network connections are fully accessible from the front, which makes service and maintenance simple, saving time and money. This is particularly useful in elevator installations as AXIS P9106-V Brushed Steel can be serviced from within the elevator, without the need to access the elevator shaft.
Additionally, if the camera is defaced, the abrasion- and chemical-resistant front window is easy to clean with detergents or simple graffiti removers. If damage does occur, the front window can be quickly replaced.
 

AXIS P9106-V NETWORK CAMERA BRUSHED STEEL

Looking for an elegant and cost-effective elevator surveilliance solution for 24/7 monitoring to protect passengers and prevent vandalism? The elegant and compact AXIS P9106-V Brushed Steel with it's high-quality finish and no visible screws, blends in perfectly with high-end interior design in commercial enviroments Designed for easy installation in elevators AXIS P9106-V Brushed Steel provides both safety and security for passengers and helps guard your property.

AXIS P9106-V NETWORK CAMERA WHITE

Looking for a video surveillance solution with synchronized audio in one stream? AXIS P9106-V can be paired with AXIS T6112 Audio and I/O Interface via portcast technology. This is the perfect setup in waiting rooms and interview rooms, letting you record dialogues, or even communicate audio messages via external speakers. The robust and ligature-resistant (anti-ligature) design of the AXIS P9106-V White makes it perfect for high security installations where there is a risk for vulnerable people to self-harm, such as police custody suites, psychiatric wards, and interrogation rooms.